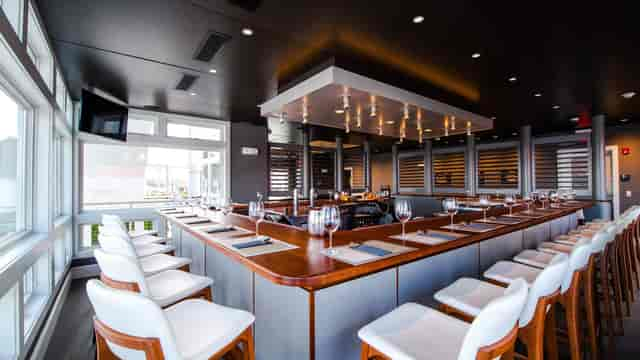 Private Events
Décor
An elegant and chic designed bar and dining room with large wall-to-wall windows overlooking the Connecticut River. All rooms include leather upholstered high back chairs and movable square and round tables for maximum versatility.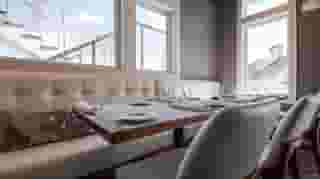 Seating Capacity
Dining Room: 10-30 seated dinner, 40 reception

Bar: 10-30 reception

Dining Room & Bar: Up to 70 reception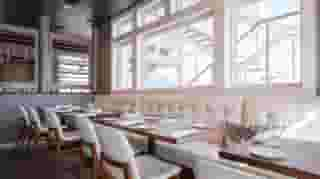 Our Space
Our dining room is available for groups of 10 to 30 guests for a full service sit down dinner and up to 55 guests for receptions. Our space is also perfect for seminars and meetings that require audiovisuals or Internet access capabilities. Arrangements for the entire restaurant and bar may also be made
Credit Cards
American Express, MasterCard, Visa, Discover
Our Staff
Owner / General Manager:
Robert Rabine

Executive Chef:
JP Dillion

Sous Chef:
Eric O'Brien

Managers:
Hannah Shimanski
Jeremy Gilroy
Patrick Caires
Suzanne O'Sullivan

Event Coordinator:
Hannah Shimansk
Handicap Access
Full access to the dining room and bar, outdoor patio, restrooms and parking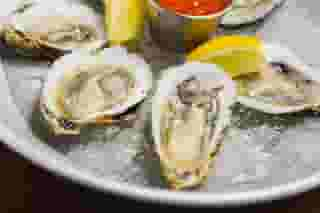 Hours:
Lunch :
Monday, Wednesday, Thursday, Friday & Saturday
11:30 AM- 3:00 PM

Brunch :
Sunday
11:30 AM- 2:30 PM

Dinner :
Monday, Wednesday, Thursday, Friday & Saturday
3:00 PM- 9:00 PM

Dinner:
Sunday
3:00 PM- 8:00 PM

Bar Hours :
Monday, Wednesday, Thursday, Friday & Saturday
12:00 PM- 9:00 PM

Bar Hours :
Sunday
11:30 AM- 8:00 PM
Private Events Inquiry
Thank you for considering Carlson's Landing for your special event. For your convenience we have enclosed information about our restaurant, staff and our special event menus. Carlson's Landing is located at 63 Main St, Essex, CT 06426 next to the Essex Boat Works and Connecticut River Museum. Our space includes picturesque views of the Connecticut River, a hand crafted mahogany bar, and an elegant, chic dining room!